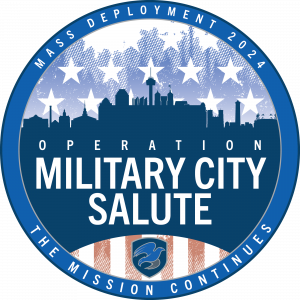 Coming to San Antonio 2024 – Operation Military City Salute
The Mission Continues
San Antonio will host 2024 event; Commitment from USAA Strengthens Ties Between Two Organizations Serving Military Communities
We're grateful for the steadfast support of our friends at USAA. This is a true partnership in every sense, fueled by the shared vision of empowering veterans to continue their service here at home."
— Mary Beth Bruggeman
WASHINGTON, DC, UNITED STATES, June 28, 2023/EINPresswire.com/ — At the closing ceremony of The Mission Continues' 7th Annual Mass Deployment event held today in Washington D.C., representatives from USAA joined executives and volunteers of The Mission Continues to announce their continued support for the organization. The partnership will extend into next year, with USAA committing to be the presenting sponsor for the 8th Annual Mass Deployment event, which will take place in San Antonio, Texas in June 2024 and be named "Operation – Military City Salute", in honor of San Antonio's well-known reputation as being Military City USA.
Mary Beth Bruggeman, President of The Mission Continues, shared, We're grateful for the steadfast support of our longtime friends at USAA. This is a true partnership in every sense, fueled by the shared vision of empowering veterans to continue their service here at home. In 2024, we'll bring our annual Mass Deployment to San Antonio, and there is no more fitting company to walk alongside us as we extend our impact in Military City."
"Serving military communities is a bond shared by USAA and The Mission Continues," said Lindsey O'Neill, Chief Communications and Corporate Responsibility Officer at USAA. "We are excited to celebrate ten years of partnerships by hosting the Annual Mass Deployment in USAA's hometown, and Military City USA, as we continue join efforts to empower our nation's veterans and drive positive community impact."
James Gillen, Chief Development and Marketing Officer of The Mission Continues, remarked, "Our deepest thanks to USAA for their unwavering support and for sponsoring the 8th Annual Mass Deployment, aptly named 'Operation – Military City Salute'. This partnership is a testament to our shared commitment to empowering veterans. Together, we will make a significant impact in San Antonio, while honoring our nation's veterans through continued service."
Mass Deployment is a cornerstone initiative for The Mission Continues. This immersive, week-long service marathon mobilizes veterans from all across the country to serve in a single community, tackling pressing issues in under-resourced communities. The event not only positively impacts the community but also provides participating veterans with a sense of purpose, camaraderie, and the opportunity to apply their skills in a meaningful way to help the local community.
About The Mission Continues
The Mission Continues is a national nonprofit organization that empowers veterans who are adjusting to life at home to find purpose through community impact. Our operations in cities across the country deploy veteran volunteers alongside non-profit partners and community leaders to solve some of the most challenging issues facing our communities: improving community education resources, eliminating food deserts, mentoring at-risk youth and more. For more information about The Mission Continues, visit missioncontinues.org.
About USAA
Founded in 1922 by a group of military officers, USAA is among the leading providers of insurance, banking and investment and retirement solutions to 13 million members of the U.S. military, veterans who have honorably served and their families. Headquartered in San Antonio, TX, USAA has offices in seven U.S. cities and three overseas locations and employs more than 37,000 people worldwide. Each year, the company contributes to national and local nonprofits in support of military families and communities where employees live and work. For more information about USAA, follow us on Facebook or Twitter (@USAA), or visit usaa.com.
David Alvarado
The Mission Continues
+1 956-373-3484
email us here
Visit us on social media:
Facebook
Twitter
LinkedIn
Instagram
YouTube
Other


Originally published at https://www.einpresswire.com/article/641643850/the-mission-continues-announces-usaa-as-presenting-sponsor-for-their-8th-annual-mass-deployment